News
April 13th 2014
Annual general assembly

We would like to invite all AHMVD members to the annual general assembly that will be held on Monday May 5th from 7:00PM to 10:00 PM at the Centre Multi-Sports de Vaudreuil-Dorion (3093 Boul de la gare, Vaudreuil-Dorion, J7V 9R2).
There will be 3 positions up for election for a 2 year mandate and 1 position up for election for a 1 year mandate.
We are looking forward to meeting you all !

April 7th 2014
A message from Hockey Trois-Lacs!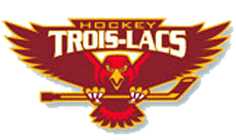 The positions of president,vice president and secretary-treasurer are up for election at the upcoming Trois-Lacs AGA on May 14th 2014. Potential candidates for these positions must submit the "mise en candidature " form which can be found in the Documents section of this site. The form must be received by the president of the election committee, M Sylvain Dugas, before April 14th 2014.
Please email to: sylvain.dugas55@gmail.com

March 30th 2014
Good job to all teams that participated in The Beauval Trois-Lacs Hockey league finals
The AHMVD would like to congratulate the Novice B Vikings, Atom A Titans, PeeWee A Pirates, PeeWee B Vikings, Bantam A Pirates and Bantam B Vikings for their victories at the Beauval Trois-Lacs fianls. They have won the first edition of the president's cup, we are very proud of you ! We also congratulate the Atom C Vikings and Banatam A Vikings for making it to the finals. The 2013-2014 Beauval-Trois-Lacs is now over, we wish good luck to to our teams that our still participating in regionals and to all teams that have upcoming tournaments !
Division
/Class
Away
Pts
VS
Home
Pts
NVA
Hawks HRS
1
Prédateurs Valleyfield
4
NVB
Vikings Vaudreuil
3
Prédateurs Valleyfield
1
NVC
Seigneurs Soulanges
2
Prédateurs HRS
0
ATA
Titans Vaudreuil
1
Hawks HRS
0
ATB
Seigneurs Soulanges
3
Hawks HRS
1
ATC
Seigneurs Soulanges
4
Vikings Vaudreuil
2
PWA
Pirates Vaudreuil
4
Seigneurs Soulanges
1
PWB
Vikings Vaudreuil
3
Aigles Valleyfield
2
BTA
Pirates Trois-Lacs
3
Vikings Trois-Lacs
1
BTB
Vikings Trois-Lacs
4
Prédateurs Valleyfield
1
MDA
Riverains2 Ile-Perrot
4
Riverains4 Ile-Perrot
3
MDB
Huskies Huntingdon
4
Prédateurs Valleyfield
2
February 13th 2014
Vaudreuil-Dorion's Novice-Atom tournament is fast approaching !

Our Novice-Atom tournament is fast approaching. Thanks to our organizing comitee, and espescially our volounteers, our tournament distinguishes itself by the warm welcome that is given to visiting parents and players. This is one of the reasons that our tournament was voted best tournament in the Lac St-Louis region in 2012-2013.

Yet again this year, we are asking but a few hours of your time to come and give a lending hand to this important event for our hockey association and our community. A 3 hour time slot helps a lot towards insuring a successful tournament.

In a nutshell, our Novice-Atom tournament is :

-Financing 100% ouf our development clinincs for Novice to Bantam levels (Which is clearly starting to pay off if you take a look at the standings for most of the single letter levels)

- Maintaining yearly registration costs at a reasonable amount.

- 57 teams from outside Vaudreuil, thus roughly 750 families that we greet into our community during the 3 weekends.

- An opportunity for our Association and community to shine and stand above the others.

The tournament is held from April 3rd to 20th. You can reach out to our coordinators at benevole@ahmvd.ca if you need more information or to send us your availabilities.

Many thanks to all, and have a great tournament. !

- Your organizing comitee.

December 2013
To all AHMVD Les Cèdres members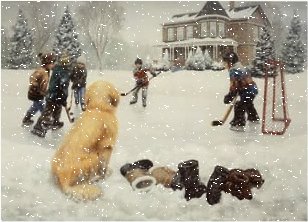 To all members, parents and friends of AHMVD Les Cedres's large family, we would like to wish you a holiday season filled with joy. May the new year bring you success in all your projects, and that health may be with you.
In these moments of recollection, be safe in your travels and take advantage of these quieter times with your loved ones to refuel for the second half of the hockey season.

To each and all of you, thank you for the great memories that you have offered us in 2013 and we'll see you again in 2014!

Your administration comitee

December 1 2013
Atom B Titans Champions at the DDO Atom tourney !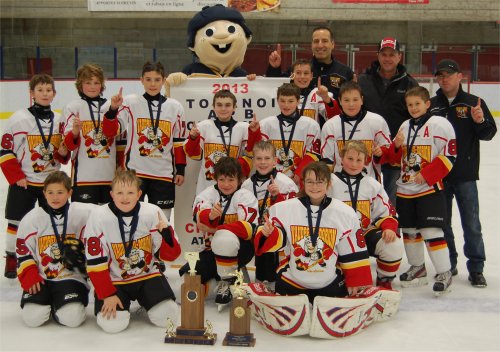 Congratulations to the Atom B Titans, champions of the D.D.O. Tournament. The team went undefeated in the tournament culminating in a thrilling overtime win in the finals over the Chateauguay Chevaliers.
Your coaches, parents and all of your fans are very proud of you!

October 30th 2013
Happy Halloween !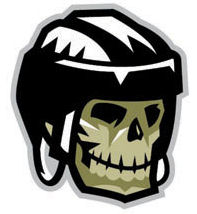 We would like to wish all AHMVD players a safe, and especially a safe halloween tomorrow night.
Happy Trick or Treating !

September 19th 2013
Single letter camps

All teams from Atom to Midget are now created.
Please refer to the lsit below for details
Novice Single letter Groups
Atom Single letter Teams
Pee-Wee Single letter Teams
Bantam Single letter Teams
Midget Single letter Teams

September 13th 2013
PEE-WEE 'C' announcement

We invite you to read the following nnouncement regarding PEE-WEE 'C'

June 10th 2013
2013-2014 Pre-Registration

Pre-registration has now begun for 2013-2014 season.
You can get all necessary documents and instructions on the registration tab of the AHMVD's website !

June 4th 2013
A message from the Administration comitee



As previously mentioned at the AHMVD'S annual meeting on May 8th, Mr Alain Picard has stepped down from the AHMVD's presidency. We would like to sincerely thank him for all his hard work over the years. The AHMVD has been very successful during his tenior, on and off the ice. Mr Christian Gaudet and Mr Yves Bergeron have also stepped down from the AHMVD's Administration Comitee. We thank them for their involvement towards the AHMVD's programs; they have significantly moved things forward for all our young players.

That being said, the AHMVD's Administration comitee would like to inform you of the roles and responsabilities of their members for the upcoming season :

Président : Jeanie Harbour
Vice-president - 1 : Frédérik Skerlj
Vice-president – 2 : Martin Cloutier
Governor : Yanick Bertrand
Treasurer : Normand Thibault
Registrar – Secretary : Carole Mailloux
Les Cèdres President : To be determined shortly.
Exceptionnal Member: Alain Picard
We are already working towards next years success. Have a great summer, and we'll see you in the fall!
Your Administration Comitee

* ARCHIVES *